keoladeo National Park Bharatpur Rajasthan Know as Ghana Bird Sanctuary. Best time to visit, entrance fee, timings, reviews, official website. To know about the Nationa parks in Rajasthan, here is the list of  wildlife sanctuary in Rajasthan.
Keoladeo National Park Located In
Keoladeo National Park is also known as "Keoladeo Ghana National Park" is located in Bharatpur district of Indian state of Rajasthan; it is located at a distance of 180 km the state capital city of Jaipur & 180 km from the national capital city of New Delhi.  Bharatpur is very well connected to all major parts of the country via roads & railway. Nearest airports are in New Delhi & Jaipur. Keoladeo National Park was formerly known as Bharatpur Bird sanctuary; Keoladeo National Park is a world heritage site; it was developed as the hunting ground for the rulers of the princely state of Bharatpur. Many grand duck hunting festivals are witnessed by this land till shooting rights of Maharaja were seized by the government in 1972. The last big duck shootout was organized in 1964.
Keoladeo National Park Map Route
Keoladeo national park is situated between two important tourist location Jaipur and Agar.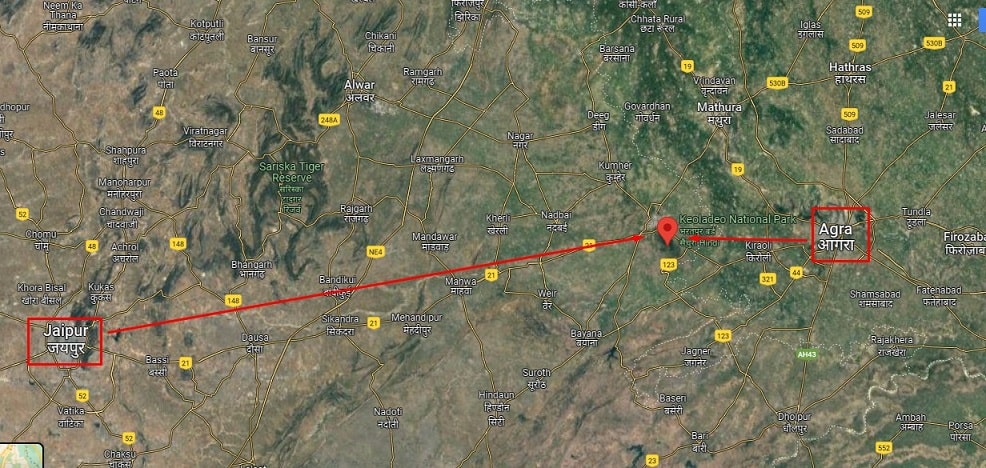 Keoladeo National Park Timing and Price
Know here entry timing and price for Keoladeo National Park tour.
Keoladeo National Park Best Time to Visit: Months of October to May.
Bharatpur Bird Sanctuary Timings:  Winter: Morning: 6.30 am to 5 pm and in Summer: Morning: 6 am to 6 pm.
Bharatpur Bird Sanctuary Entrance Fee: Present prices for safaris in Sanctuary, for Cycle rickshaw: INR 50 (US$ 1) for 2 persons per hour.
Park Entry fees: INR 50 (US$ 0.5) for Indians,  INR 400 (US$ 6.6) for Foreign Nationals and Guide fees: INR 200 (US$ 3). Other services like Horse cart (Tonga): INR 150 (US$ 2.5) for 6 persons per hour, Bicycles: INR 40 (US$ 0.5) for half day.
For Bharatpur Bird Sanctuary reviews and official website visit: Rajasthan Tourism -http://tourism.rajasthan.gov.in/parks-and-wildlife.
Keoladeo National Park is Famous For
Keoladeo National Park is now world famous & considered as the best national park for birds in India; this is because of the presence of a very large number of birds present in the national park. Birds like babblers, bul-bul, Indian grey hornbill, short toed eagle, tawny eagle, spotted eagle, crested serpent eagle & spotted eagle can be spotted here which is a very rare sight in other national parks. Keoladeo National Park has been home to the legendary migratory bird Siberian Crane which are considered as the longest flying migratory birds from Siberia.
Keoladeo National Park is also rich with the mammalian fauna, animals like wild boar, sambar, chital deer, feral cattle, jungle cat, fish cat, jackal & stripped hyena can be spotted very easily in the national park.
Since the park is located on the equal distance & on mid-way to Agra, a large number tourist lands here while en route to Agra or Delhi. The fame of Keoladeo National Park has also increased many folds because of its location.
Tags: Keoladeo National Park Bharatpur Rajasthan , Keoladeo National Park best time to visit, Keoladeo National Park official site, Bharatpur bird sanctuary timings, Ghana bird sanctuary is situated in, Bharatpur bird sanctuary entrance fee, Bharatpur bird sanctuary reviews.