Adalaj Stepwell is built by Raja Veer Singh and completed by Queen Rudabai in 1499.  Adalaj Stepwell in Gandhinagar, Gujarat, India. It is a striking five-story structure designed to store water, provide shelter to travelers and locals, and offer spiritual solace. The deep turquoise water on the fifth floor radiates an inner light, surrounded by timeless beauty captured in stone.
The story behind Adalaj Stepwell is a mix of love, war, devotion, and betrayal. Rana Veer Singh initiated the construction to help his people in the dry region. Unfortunately, he was killed in battle before its completion. King Mehmud Begada, who fell in love with Queen Rudabai, the widow of Rana Veer Singh, agreed to marry her on the condition of finishing the stepwell. Once it was done, Queen Rudabai tragically ended her life by throwing herself into the well.
Adalaj Stepwell's architecture combines the Solanki style with Hindu, Jain, and Islamic influences. The entire structure is adorned with carvings, sculptures, and ornamentation, featuring a blend of Indo-Islamic elements, including floral patterns, along with Hindu and Jain symbolism and scenes of daily life. The stepwell, with its three entrances, also serves as a temple where flower offerings are common. Adalaj Stepwell stands out as a unique and culturally rich monument.
Adalaj Stepwell Photos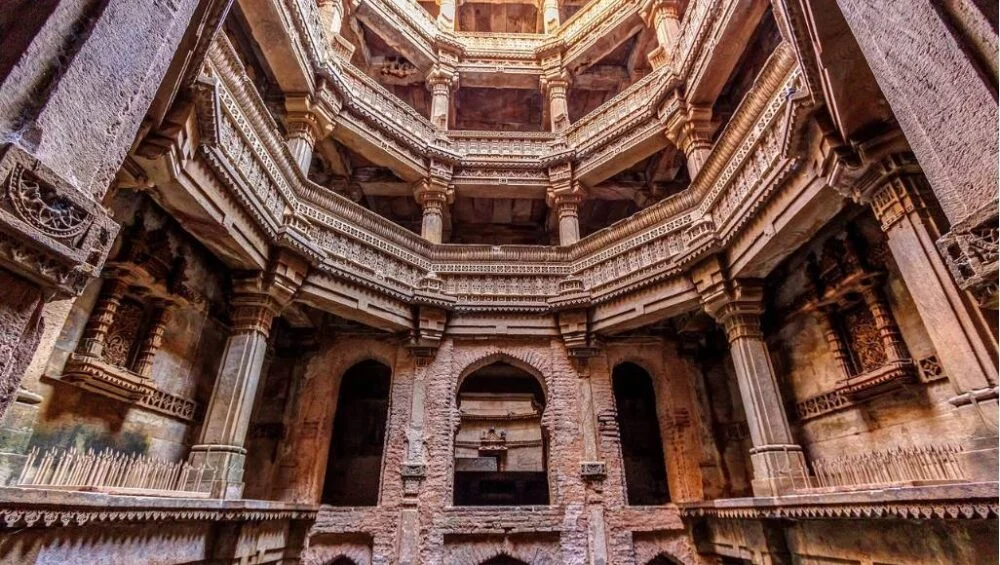 Adalaj Stepwell News
Recent photoshoot of cricket world cup finalist team captains at Adalaj Stepwell.
View this post on Instagram